Mariner Engineering is a highly experienced, professional marine service centre. Our highly trained and friendly mechanics can accommodate the needs of your boat repair by working from our fully fitted out workshop in Spotswood or at your home berth around Port Phillip. We offer approved warranty repairs for Volvo Penta and Yanmar engines and we can service any make or model.
Comprehensive Marine Services
We can complete marine services on any make or model of vessel, we are authorised Yanmar and Volvo Repairers, which means peace of mind for you.
Mariner Engineering can handle any job, from minor services and maintenance checks to re-powers, installations and systems repair. Our varied expertise can help with engine controls to running gear repair, we have associations with all the major marine parts manufacturers, so we'll choose the right product for your application.
Mobile Service
We provide highly trained technicians at any time, anywhere, you will receive expert advice and full warranty servicing for both Volvo Penta and Yanmar Marine and Industrial equipment. We provide a range of quality parts for all your needs, from props to bow thrusters, we will give you the best advice on the best equiptment to suit your budget.
We Provide
• Marine services on all makes and models
• Range of marine brands for your best application
• Volvo Penta Authorised agent
• Yanmar Authorised Agent
• Twin Disc Transmission Agent
• ZF Systems Authorised Agent
• Tohatsu Authorised Agent
• Mase Generator Sales and Service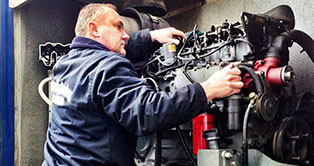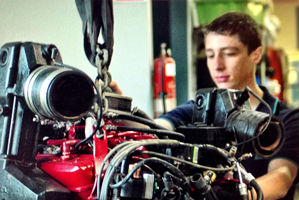 A powerboat is a finely tuned engineering system. Every component is dependant on each other, at Mariner Engineering we give you balanced advice on the correct component for your marine system.
Click on some items on the diagram to see the areas we cover.

Yacht systems are especially prone to harsh conditions, we think about your vessel's intended purpose. Mariner Engineering we give you balanced advice on the correct component for your yacht, we will tailor a solution for your requirements or budget.
Click on some items on the diagram to see the areas we cover.
The service workshop at Mariner is one of the most comprehensive, modern and well equipped in inner Melbourne.
Our staff of highly trained technicians are proficient in all areas of manufacture, welding and engineering. We often need to modify components to fit or complement existing marine systems.
We have a full size transmission testing unit (the only one in Victoria) a test tank and a fully equipped diagnostic unit. Your boat is or industrial unit will receive the best attention and equipment in Australia.
Pricing
We realise that marine systems are sometimes expensive to maintain, we like to keep customers always informed at every stage of re-powering projects, we aim to be as efficient as possible, and in most cases be locked into our fixed price servicing agreement, available on Yanmar and Volvo Penta modules.
We offer:
• Fixed price servicing
• Extended warranty on installations
• Free advice and quoting
• Free diagnostic check on re-powers
• In-house prop calculations
• On site servicing and repair
Hours
Monday - Friday 8am to 5pm
What goes into our labour charge?
CONSUMABLES, SVS AND FREIGHT CHARGES
We carry out a wide range of repairs to all vessel systems. We recognise there are varying costs associated with various tasks undertaken.
Rather than absorbing these costs into a subsequently higher hourly labour rate, we list them as separate line items on our quotes and invoices. We feel this is a fairer way to pass on these costs to our customers with a variety of work requirements in a variety of marina locations.
Our Consumables / Environmental levy
This line charge on our invoices covers, but is not limited to rags, lubricant sprays, sealants, adhesives, tapes, Loctite, cleaning products, electrical items (crimp terminals, zip-ties). As it is extremely in-efficient to quantify these items, we charge them out as fairly as possible based on the works carried out. Some onsite jobs may include parking fees covered by the consumables charge.
We are also committed to disposing our hazardous waste as environmentally friendly as possible as required by the EPA, Australian law, (but most of all, our conscience!). This in turn incurs substantial costs.
Our Service Vehicle Surcharge
Mariner Engineering's SVS is a 50 cent per K/M charge that covers some of the running costs of our specialised services vehicles. This rate is actually set lower than the VACC advised rate of 75 cents.
Many of our customers, looking to reduce costs, arrange to bring their vessels to a closer berth or our workshop if possible. This minimises travel costs associated with the job.
What we charge for freight
To stock standard service items for most marine engines we need to have these parts on hand, minimising delays and makes for a more efficient job for everyone.
If a job calls for parts from outside of our stock, we have a vast supplier base all over the world. The parts department endeavour to source parts as locally as possible. Ordering from our dealer brands of Yanmar and Volvo on a regular basis, twice a week on average.
If parts for a specific job can be added to these regular orders then freight cost are shared and reduced significantly.
If turnaround time is of most importance, we can place a special order and have parts sent by the quickest freight option. Higher costs for these services are then passed on to the customer.